Thanksgiving is upon us. This Holiday Place Card DIY is imaginative and simple. We're making wire pumpkins! They're great party favors for dinner or collapsible and reusable for easy storage for next year. You could even get the kids involved making these fun pumpkins that double as Thanksgiving Place Cards. The cost is about 75 cents or less per place card pumpkin. A video how to is here and here.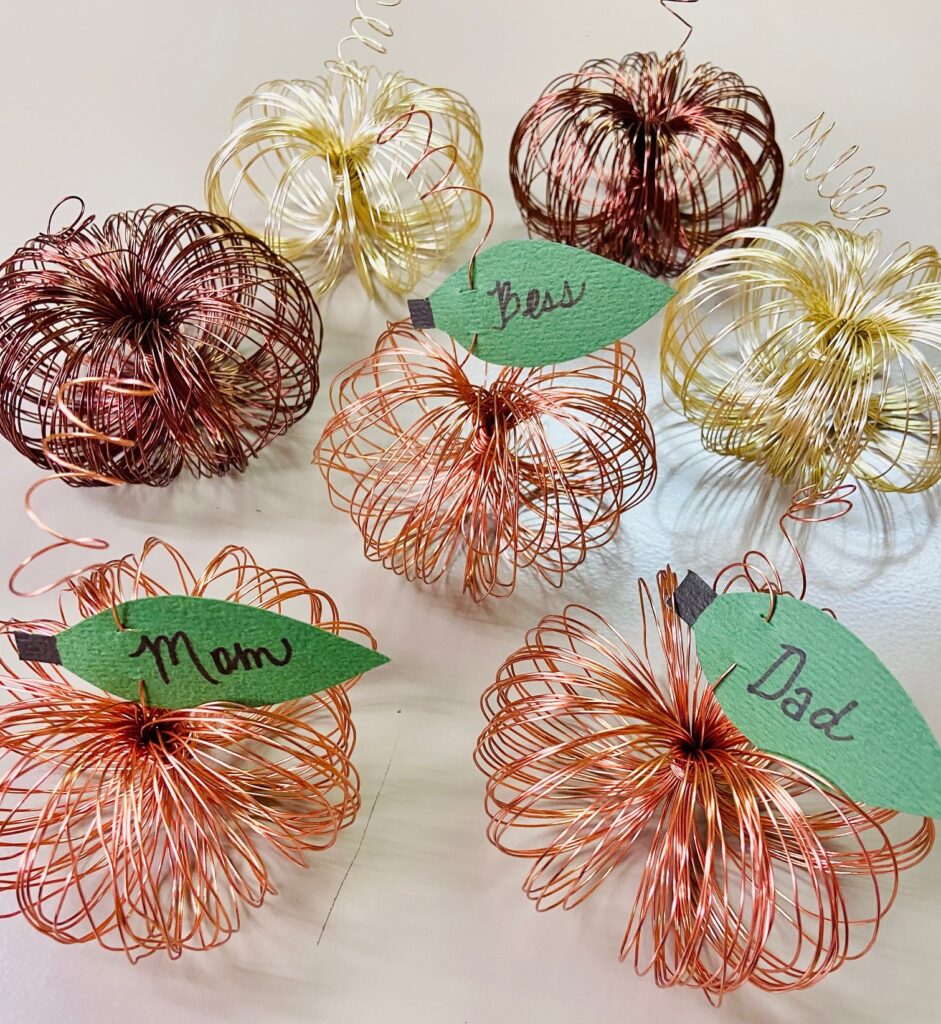 Materials:
Floral wire in Gold, Copper, or Burnt Orange colors
Wire Cutters or Heavy Scissors
Green Paper
Sharpie Marker (or something similar in size)
1-2″ Size (width) round object such as a bottle
How-To:
Using the spool of floral wire, begin by wrapping the wire many times around either 2-3 fingers or a round bottle. I'm showing pictures of both. The more wire you wrap, the fuller the pumpkin will be. Leave about 4-5″ of wire at the beginning before you start wrapping the wire as extra. The disadvantage in using your fingers to wrap the wire is that the wire tightens as you wrap and can be uncomfortable.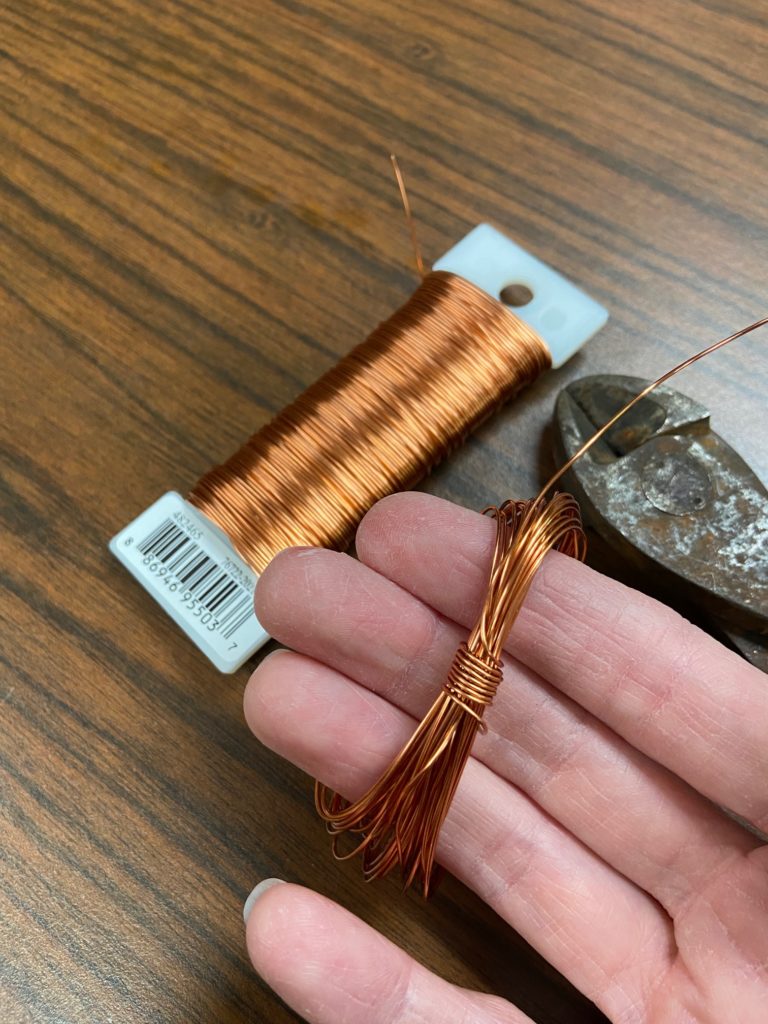 I recommend using a bottle or round object to wrap the wire. To give you an idea of how much wire to use, I wrapped the whole bottle picture from top to bottom because I wanted full pumpkins.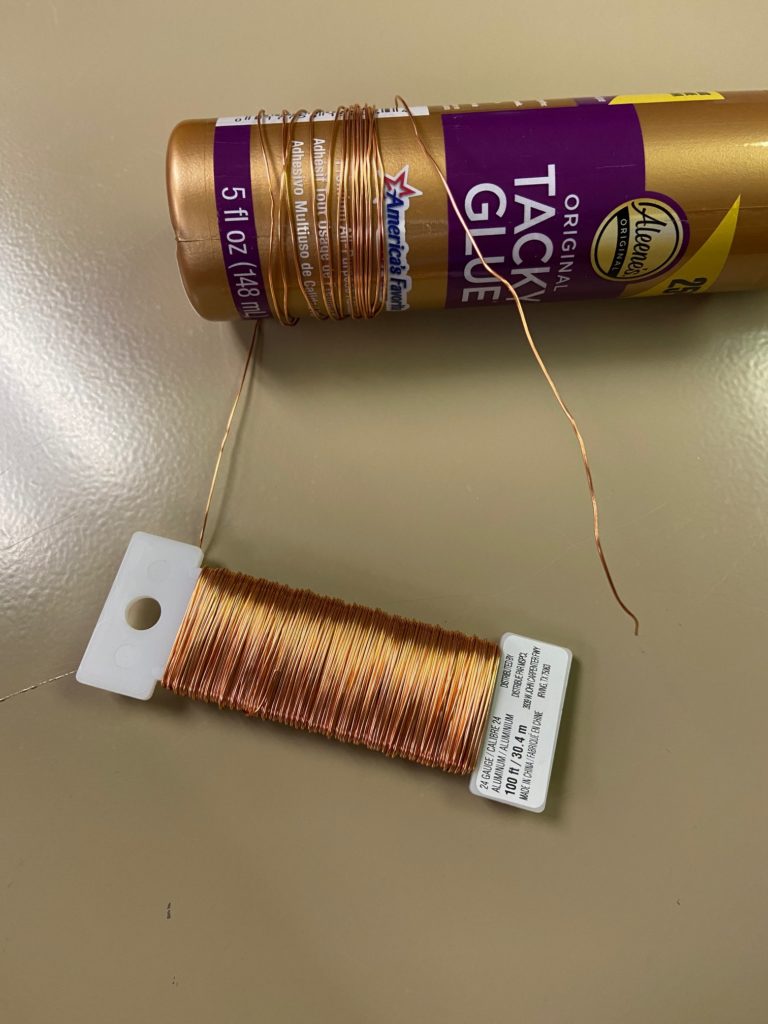 Once you've wrapped all the wire you want to use, scrunch it together or remove it from the bottle scrunched. Tie the bundle of wire together by wrapping the beginning piece you saved around the wire to cinch the bundle.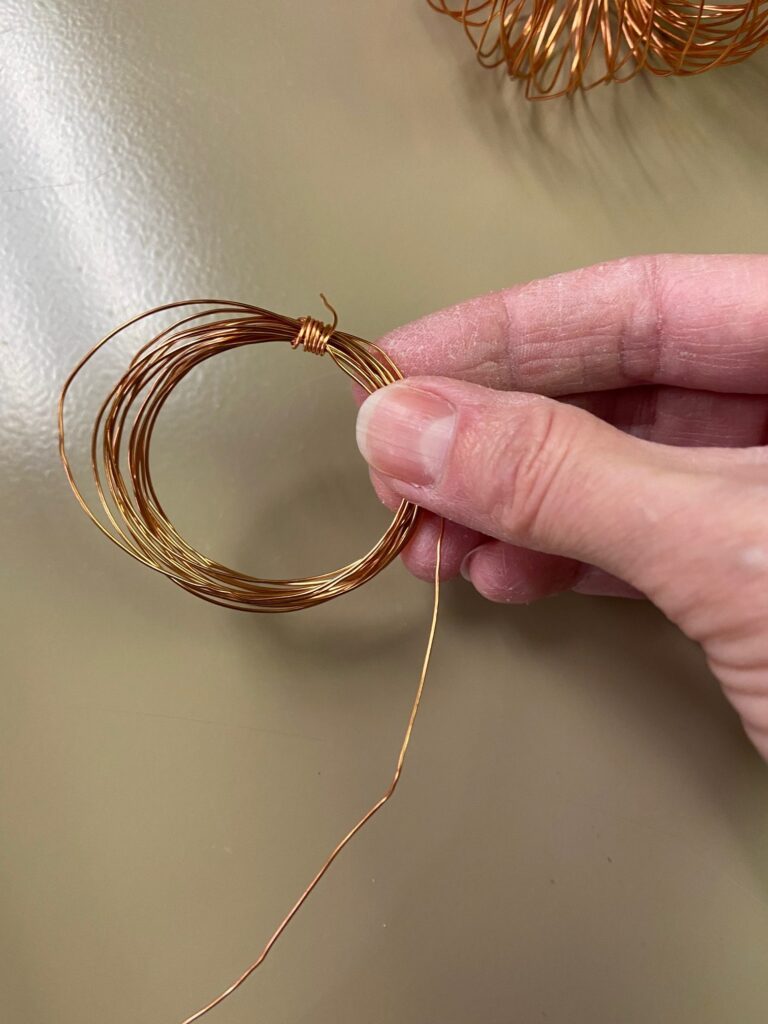 After the bundle is cinched, cut the wire from the spool. Leave another 4-5 inches of wire at the end to create the curled pumpkin stem. Before you make the stem, spread the wire bundle into a circular pumpkin shape by pushing the wires apart.
Continue fluffing until the wire bundle looks like a full pumpkin.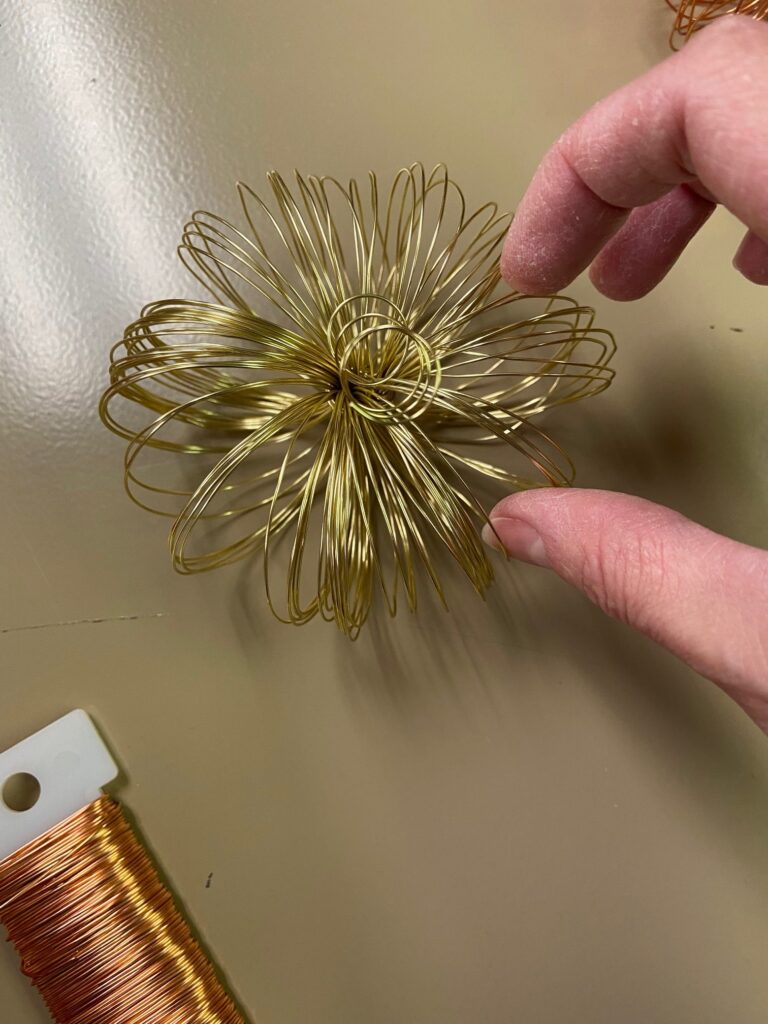 Once the pumpkin shape is complete, cut leaf shapes from green paper and write the name of your guest on the leaf. Make a very small hole and slide it down onto the wire piece that will soon be the pumpkin stem to set the card in place.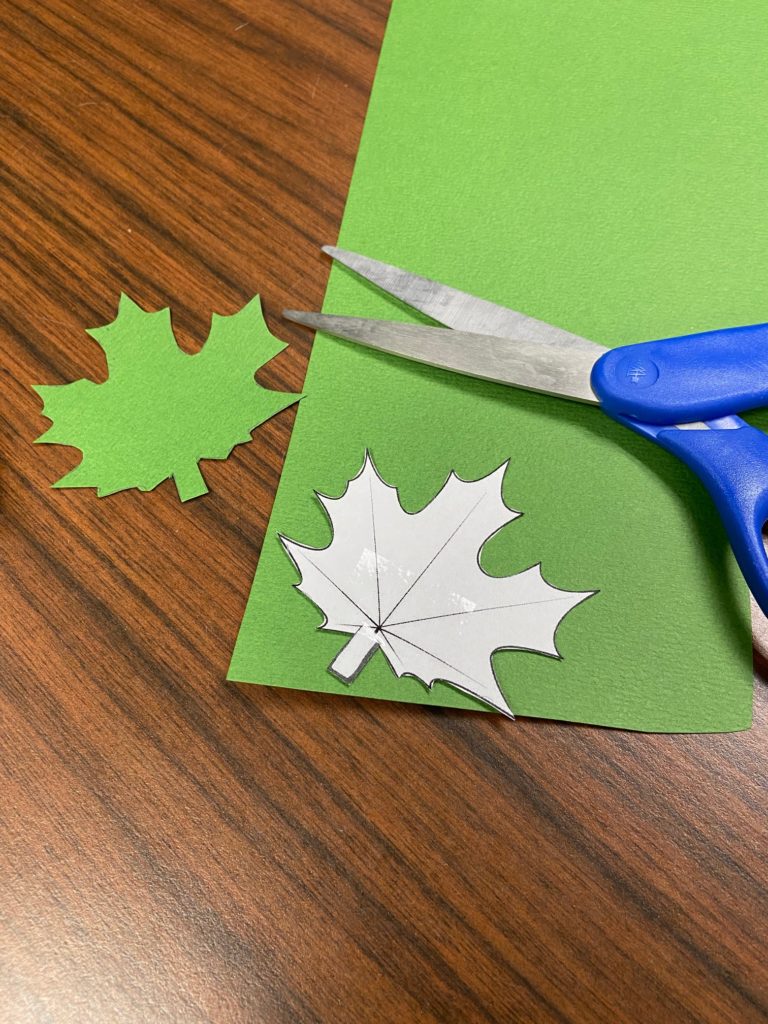 Next using a sharpie or an object similar in size, wrap the stem wire around the sharpie to curl the stem. Slide the wire off of the sharpie and it will be curled.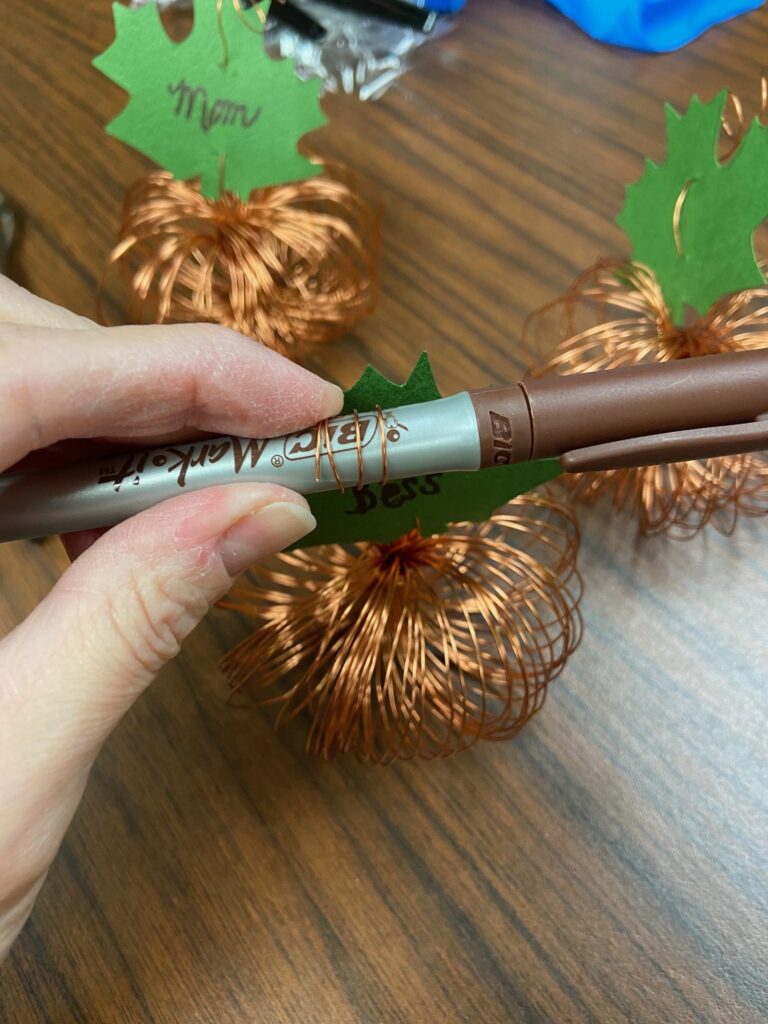 Once the stem is curled the pumpkin is ready to put at the place setting on the table – and the Holiday Place Card DIY is complete! These place cards would go very well with these napkin rings!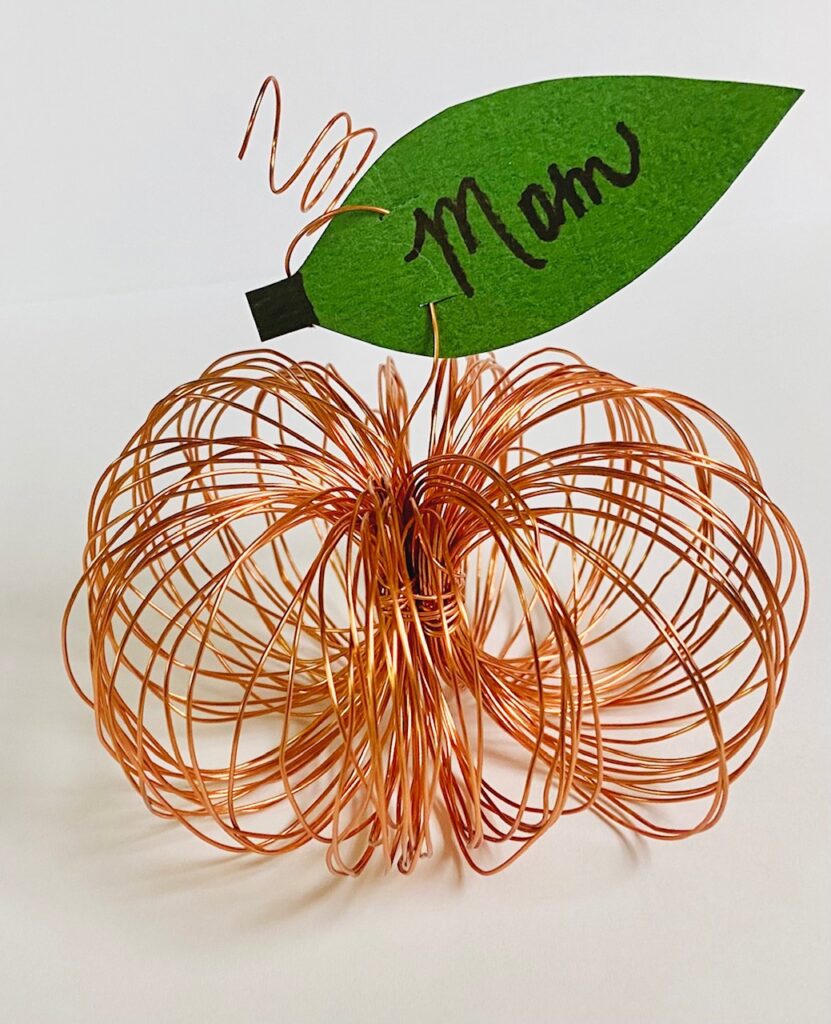 Happy Thanksgiving! #happythanksgiving