It's the holiday season!  This year we're going simple but unique and creative with a Candy Ornament DIY using peppermint candy.  We'll also make Peppermint Holiday Plates that double as plates for Santa's cookies or festive Christmas decor.  These ornaments take literally minutes to create and cost roughly $1.25 for eight!  They won't break the bank….and let's be honest, everyone needs a bit of a budget break this time of year.  These also double as great teacher gifts or fun little somethings to tie onto gifts – So let's get started!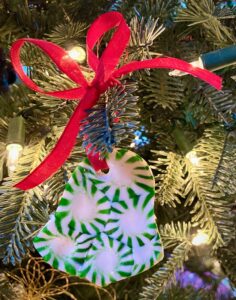 Materials:
Seasonal Metal Cookie Cutters
1 Bag of Red Mints
1 Bag of Green Mints
Aluminum Foil
Pan – A cookie sheet works well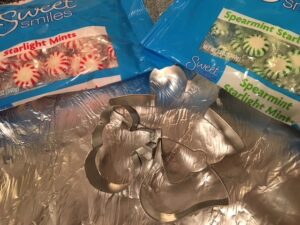 How-To:
Preheat the oven to 300.  Place the mints into the cookie cutters.  You will need to crush some to fill in the cracks of the cookie cutters to complete the shape.  Put the mint filled cutters on a flat pan covered with a sheet of aluminum foil.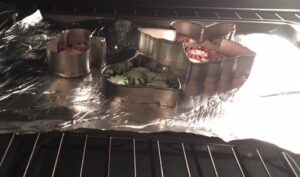 Put the pan in the preheated oven for five minutes.  At the five minute mark begin closely watching the candy.  Depending on your oven you may want to take them out in the next few minutes.  Eight minutes did the trick for my candy.  I left one sheet in the oven for too long and the candy was over melted and made a giant mess. Once the candy is melted, remove from the heat and allow to cool inside the cutter to hold the shape.
The candy will be very soft at this point and using a point (like a kabob skewer or the tip of a knife), gently make a small hole in the top for the ribbon to thread through.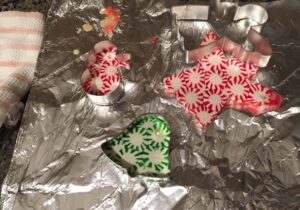 Once the candy has cooled completely, GENTLY remove from the cookie cutter.  It should pop out with easy pressure.  Add the ribbon to complete the ornament.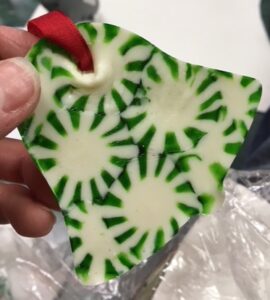 Have fun creating this Candy Ornament DIY and hanging your Ornaments on the tree!  Merry Christmas!