Santa's Cookies are an important of Christmas preparations. Everybody knows that Santa thinks better cookies equal better presents. Make special Peppermint Holiday Plates to hold those all-important cookies for about one dollar and it takes 15 minutes or so. Customize the plate using green and red mint candies to make holiday shapes or letters in your plate. This technique also makes adorable Christmas ornaments for the tree or gifts.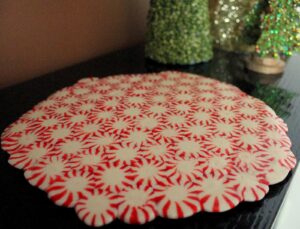 Materials:
Peppermint Candy ($1 per bag at discount store – get red and green)
Aluminum Foil
Baking Pan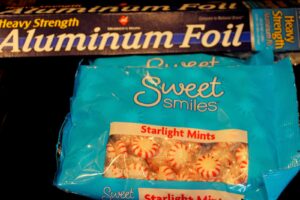 How-To:
Preheat the oven to 275-300 degrees. Tear a piece of aluminum foil and fashion it into a circular shape. You can eyeball your mints if you don't want to take the time to make a circle with the foil. Also, you may choose to make another shape besides a circle and that's fine too.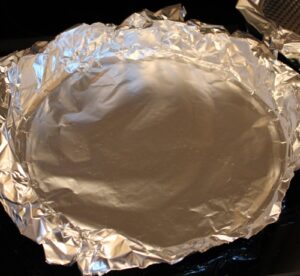 Arrange the mints in the pan to form a plate. It is easier if you begin in the center and place the mints around the center mint.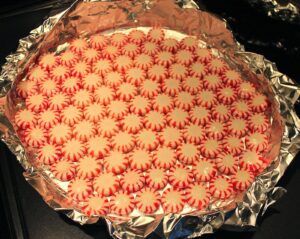 Or –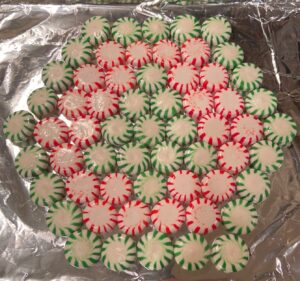 When the candy plate has its shape it is ready for the oven. Bake the plate for 5 minutes and then start watching it. Watch this carefully! Once the edges start to melt just a bit, the plate is ready to remove from the heat. The mints in the center will be warm. Use a spoon (I used plastic) to gently roll the edges of the mints completely together. The oven will heat them and melt them down but the spoon helps fill in the small gaps that may be left. Gently rolling the mints also allows you to correct any edges that may not be even on the outside of the plate. This process only takes a minute or so to even everything out.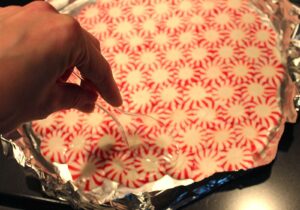 Allow the plate to cool completely and the aluminum foil will easily peel away from the candy. One great thing about the plate is that the bottom side looks great too so you may use either side of the plate. Santa will love these Peppermint Holiday Plates!