The Super Bowl is next weekend.  Super Bowl parties can be pricey, but not necessarily.  You can throw a Super fun Super Bowl party for less with just a  little creativity and a few minutes!  Because I'm from the Carolinas, the Carolina Panthers are the team I want to win so my party is Panther themed.  Let's get started!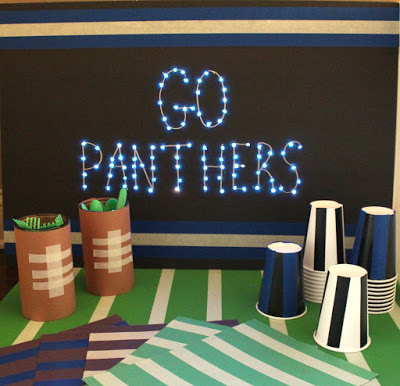 Go Panthers!
Begin by personalizing tableware purchased from any discount store.  I used blue painters tape, masking tape, and electrical tape for the various items in my party.  Purchase cups in a solid color.  I chose black and white.  The cost was 97 cents per package.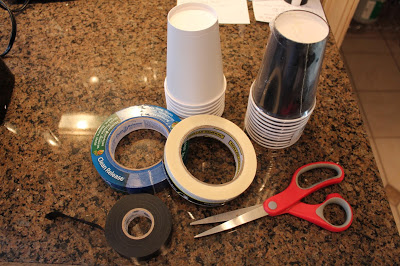 Cup materials
Stripe the white cups with black electrical tape for a referee jersey theme.  Cut strips of tape and affix to the cups – 4 or 5 strips of tape per cup.  Repeat the same for Panther colors with the black cups and blue painters tape.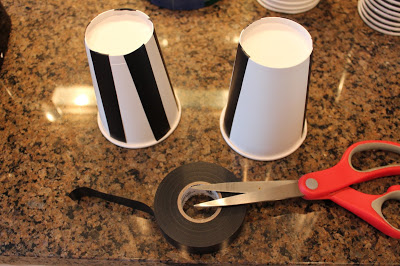 Affix tape to the cups
It took me about 10 minutes to finish the cups.  They're very simple.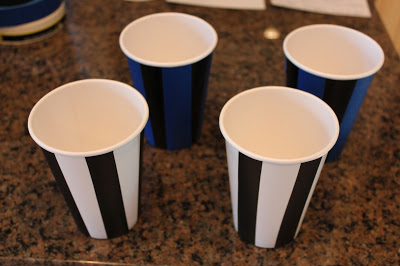 Team Cups
Creating themed utensil holders uses only paper and masking tape also.  Cut construction paper strips to fit around drinking glasses you already have.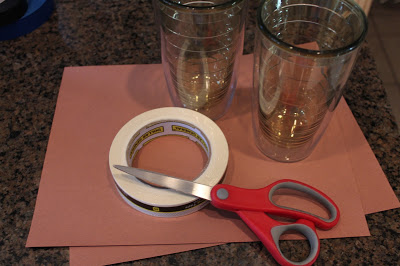 Cut paper to fit around glasses
Tape the paper securely around the glass.  Then cut strips of masking tape for the laces of the "football."  I used three smaller strips and one large strip to make the football holder.  Place them in the center of the cup to create your football.
Attach the "laces"
Fill the cups with utensils and you're ready to play ball!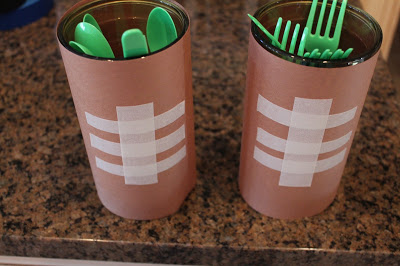 Football utensil holders
Next create themed place mats and a large table covering with paper and masking tape as well.  You may use whatever color you'd like.  I made a mix so guests may choose.  You'll need construction paper and the three tapes above – plus a sheet of green poster paper.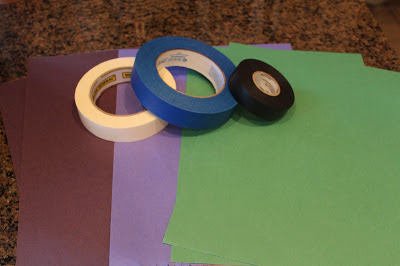 Materials
Make stripes with the tape across the construction paper.  I made green "football field" place mats.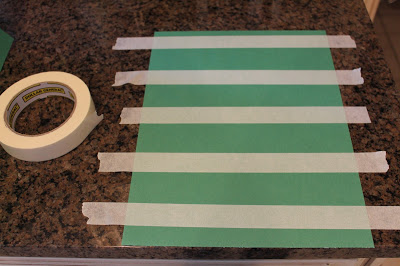 Make stripes with tape
You could also do black and white referee stripes, or team color stripes on paper as well.  For the table covering under your buffet use the larger piece of poster paper.  Stripe the green paper with the masking tape and arrange your party food on the "field."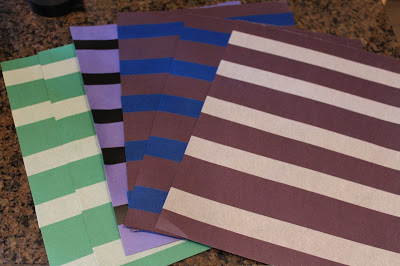 Party Place Mats
I finished my party decor with a Go Panthers sign.  Use a piece of black foam board from a discount store that cost $1.  Write the slogan you want to use on the sign and press Christmas lights from the back side of the sign into the letters.  This highlights the letters and creates a festive sign to frame your party table.   Use masking tape on the top and the bottom in rows for team colors.  Finish by arranging everything on your table and you're ready to cheer your team!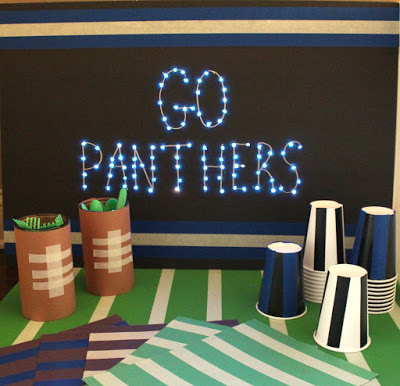 Super Bowl Party for Less!