This Valentine project couldn't be more simple, I'm being serious. So I'll be short and sweet with the explanation – Lipstick Heart Valentines. We're making the coolest (at least in my opinion) version of a Valentine Heart with dollar store lipstick and construction paper. It's affordable and kid friendly and makes a uniquely special Valentine in no time. This project is great for homemade cards or even to frame as a gift. It's versatile and fun to make also – Let's Go!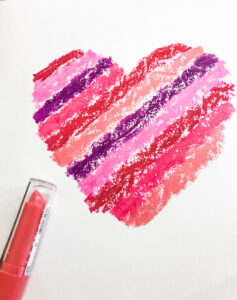 Materials:
Lipstick (at least 3-4 valentine shades – these cost $1 at the dollar store)
Construction or Craft Paper
Heart Shape to trace
Pencil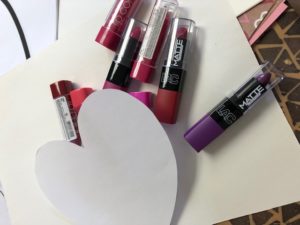 How-To:
Begin by tracing a lightly heart on the paper. You don't want the pencil mark to be too dark or the lipstick won't cover over it. I downloaded a heart shape to use as a template so my shape would be even. An uneven shape may even me more unique.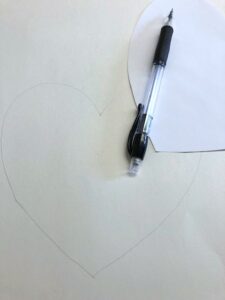 Using the tubes of lipstick in varying shades, color in the heart in a line. It could be straight lines, diagonal lines, or whatever lines you choose. Press the lipstick lightly because you could make a squishy mess if you color too hard. I chose to draw outside the lines and make different line lengths for an imperfect heart. You can be as creative with this as you like.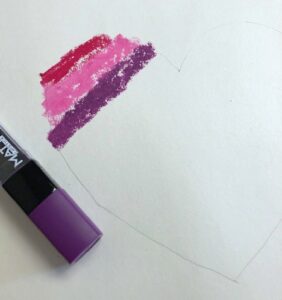 Once your heart is colored in allow the lipstick to dry and set for a few hours. If you're giving as a card lightly mist the heart only with aerosol hairspray and it won't smudge.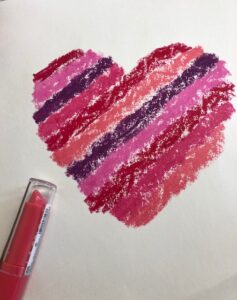 Framing the Lipstick Heart Valentines make a lovely and fun Valentine gift for a teacher or your special someone.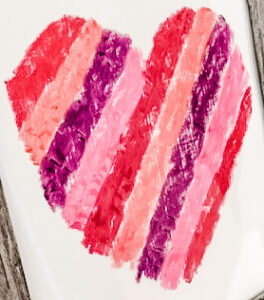 Happy Valentine's Day! Check back each day this week for more Valentine's Day ideas on the site and also video how-to's for projects.