I mostly like Halloween for the candy.  When I was little my Aunt Carolyn handed out giant candy bars and Tootsie Roll Lollipops to her trick-or-treaters.  She was everyone's favorite house in my community.  I thought it would be fun to create a twist on the typical trick-or-treat candy bowl that is socially distanced and everyone can get their own candy without touching each other.  What about combining Jack-o'-Lanterns and candy?  Ladies and Gentlemen, introducing a Candy Pumpkin DIY aka Jack the Party Pumpkin!
Materials:
Pumpkin Trick or Treating Bucket (old school kind – sort of hard to find)
Styrofoam Ball to fit in hole in bucket
Lollipops
I bought large and small Tootsie Pops for a variation in sizing. You can paint the ball if you're really adventurous but you don't have to. The cost is about $6.
How-To:
Begin by pushing the ball onto the hole.  It needs to be a tad bigger than the hole or it will fall through.  If you use different sizes of lollipops, push the larger ones randomly into the ball across the entire exposed ball.  Next place the smaller ones in the gaps until the ball is fully covered.  It is that easy.

As your trick-or-treaters come over, allow everyone to pull from the pumpkin's candy head – and you don't have to come into contact with your guests.  This candy pumpkin DIY is the perfect COVID Halloween idea!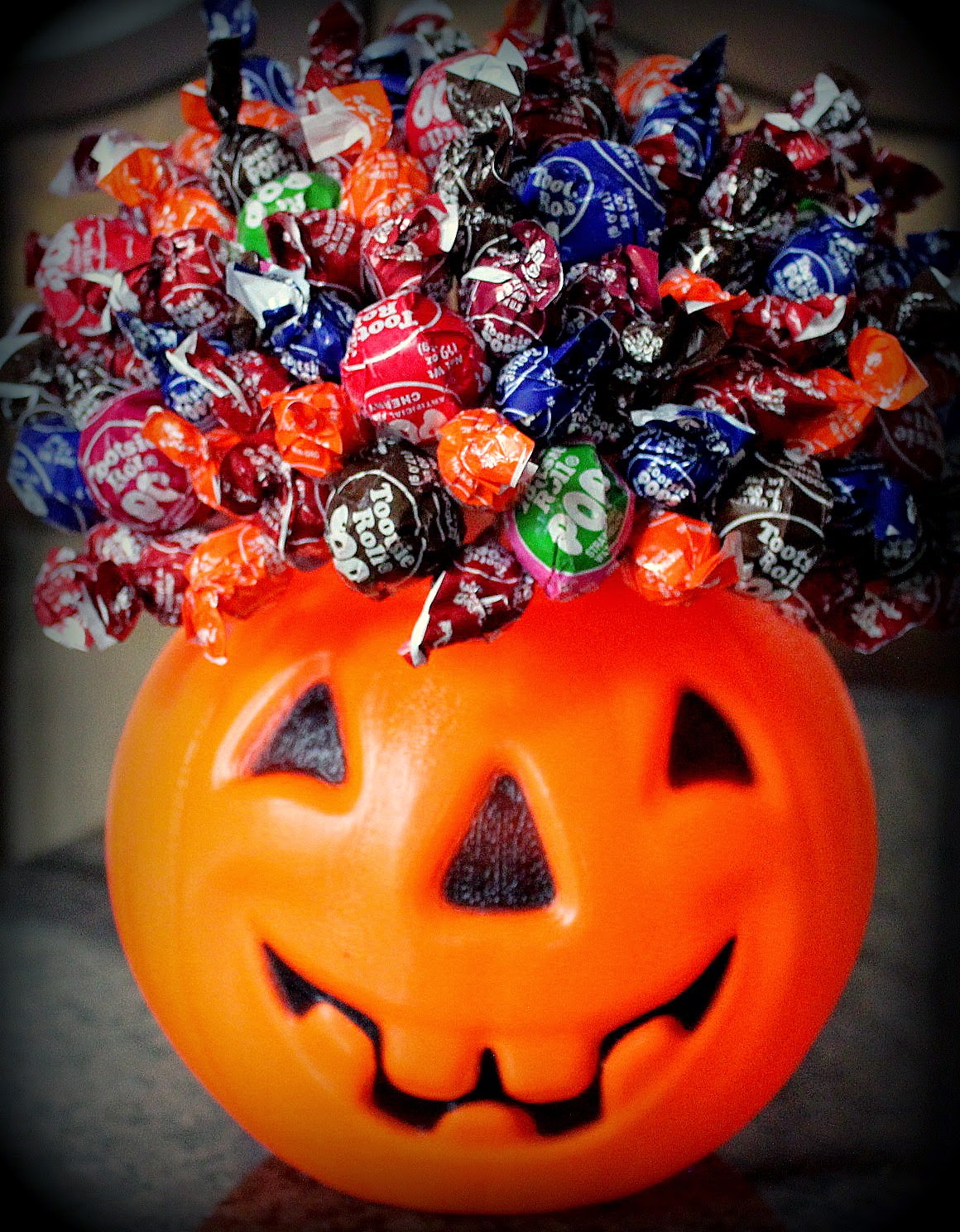 Candy Hair!
This is also a great idea for a candy bouquet not during Halloween.  It makes a great teacher gift, get well soon present, or a bouquet for your desk.  


You need a pot, a styrofoam ball, tissue paper, and lollipops.  Smaller pots work better with Dum-Dums, but use what you like or what you have.  This cost about $3-4.  If you have the pot and a piece of styrofoam that will work, the candy is $2. 

I also didn't want to paint the ball so I wrapped it in a leftover piece of tissue paper.  Then repeated the same steps as above.  Push the Dum-Dums into the ball.  Because I was using lollipops that are all the same size, I made circles around the ball from the bottom to the top.


#candy #halloween #trickortreat #dumdum #tootsieroll #tootsierollpop #diy #easy #toocute #yummy