The 4th of July is here!  I'm loving the long weekend and all the festivities that surround the holiday.  I've already seen fireworks and been to outdoor cook-outs and it isn't even the big day.  So if you're a little behind or stumped for your 4th celebration (because it's already been done), check out the video and how-to's below for easy 4th of July tips and last minutes tricks with some new twists on fun food and decor originals…..and all for less time and dollars.  Happy 4th!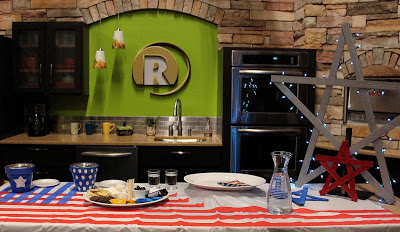 Happy 4th of July!
Amp up your S'mores game with a DIY S'mores bar.  I like to add a gourmet element by replacing the graham crackers with thin mint cookies or rice krispie treats.  Using flavored chocolates is really, really delicious too.  Ghirardelli Mini's are great for S'mores because they're sized just right for the marshmallows……and they're filled with yummy things like caramel!  These S'mores may be made over an open fire or pots filled with stone and sterno if the weather is inclement.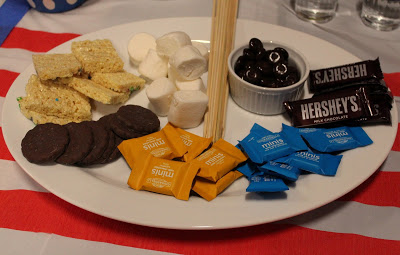 Gourmet DIY S'mores Bar
Use yard sticks and Christmas lights to make a "two for" holiday star.  This star may be used for the 4th and also Christmas – and it's easy to assemble!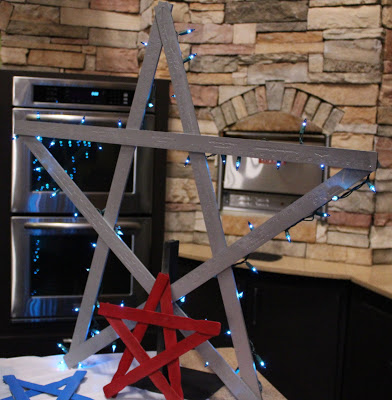 Holiday Star
The photo below tells the story.  You'll need 5 yard sticks, spray paint (or markers and glitter), small nails, and thumb tacks.  Paint the sticks and nail them together in a star pattern with small nails.  Use thumb tacks or electrical tape to affix the lights to the back and presto – a star for less than $6.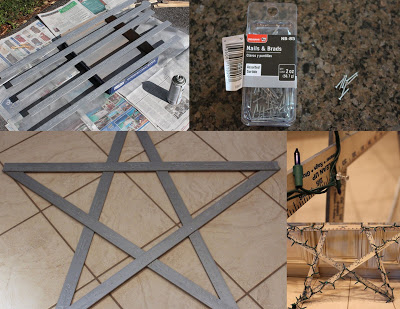 How-to star style
The smaller stars are super simple.  Spray paint stirring sticks (they're free) at any hardware or discount store that sells paint.  Use wood glue to glue them in a star shape.  These are great because kids may decorate them with markers or stickers or glitter and they're a great project to keep the little ones busy.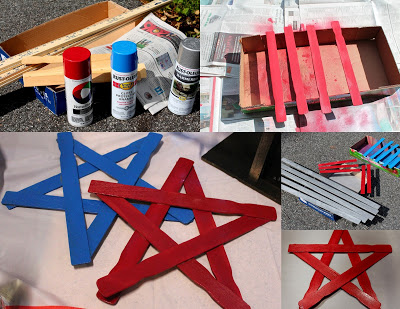 How-to stars for kids
And to end on a yummy star note……frozen star watermelon pops!  Cut star shapes from slices of watermelon.  I added a lollipop stick and froze them for a good-for-you popsicle!  Frozen watermelon chunks in lieu of ice in cocktails or flavored water is also delicious.  Send the kids outside with a holiday treat that they'll love – plus they're inexpensive and take minutes to make.  So, so good!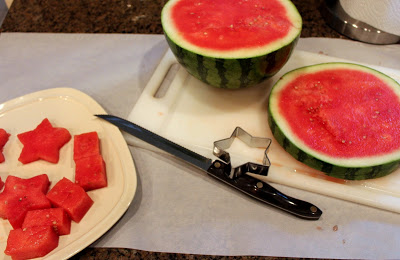 Frozen watermelon pops
#julyfourth #4thofjuly