Hippity, Hoppity, Easter is on its way!  Easter Eggs are a huge part of Easter festivities.  Today's DIY project is a twist on the standard plastic egg. We're making Easy Easter Eggs from yarn.  These eggs make beautiful table decor and even may double as decorative baskets.  The cost is about 50 cents per egg and they are simple to create. You may choose whatever color of yarn best compliments your home decor so they're flexible to mix and match.  Let's Go!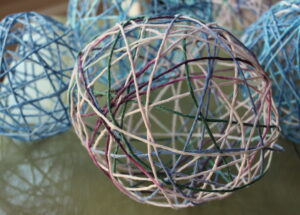 Materials:
Balloons
Glue
Yarn
Scissors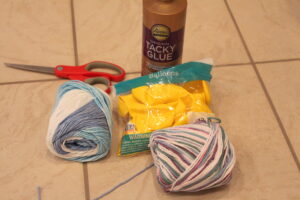 How To:
Start by blowing up a balloon.  Balloons are naturally egg shaped so blow them up in different sizes to create contrast in your globe eggs.  Pull enough yard from the roll to wrap multiple times around the balloon.  The amount I used is in the photo below.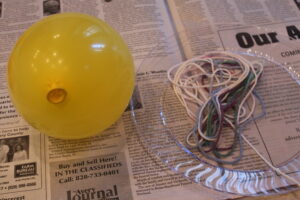 Next thoroughly soak the yarn in glue.  It's messy!  I poured glue onto the yarn and then "mixed" it into the yarn with my hand.  You are going to get sticky, but it's worth it.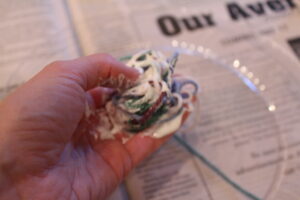 Wrap the wet yard around and around the balloon until the entire piece of yarn is adhered to the balloon.  You can create a bowl from yarn by only wrapping one half of the balloon.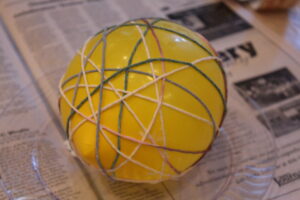 Set the balloon eggs on a piece of aluminum foil or parchment paper to dry overnight.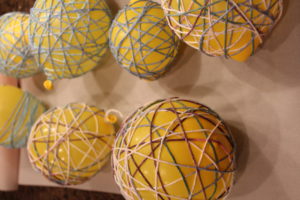 Once the balloons are completely dry, they will be very firm to the touch.  Pop the balloons and pull the pieces from the center of the egg.  One tip – the balloon will be stuck to the yarn so gently pressing the air filled balloon from the edges of the yarn egg prior to popping makes the process much faster.