Happy Fall Y'all! Now that autumn is underway and the leaves are starting to turn, it's time to get serious about fall decorations. I don't have the patience to precisely carve pumpkins mostly because I spend just as much time cleaning up the mess as carving the pumpkin. But there is a way to decorate pumpkins for fall without the hassle. The time and cost investment is minimal, plus there's no chance of a knife wound. For me that's a plus! Check out these Easy Autumn Pumpkins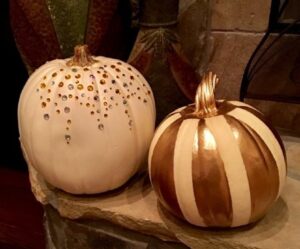 Painted Pumpkins
I'm obsessed this season with metallics and love the shiny gold mixed in with the other colors of fall. Using metallic paint to decorate a pumpkin is simple and adds so much to a table centerpiece or a front entrance. I spent $3 on the pumpkin and $3 on the spray paint. Begin by purchasing shiny gold metallic paint from a discount or hardware store.
You may be as creative (or not) as you like in making a pattern on the pumpkin by crafting lines, circles, or an intricate pattern. Use painters or masking tape to lay out the design on the pumpkin. For the sake of time, I striped the pumpkin vertically along its groves with tape.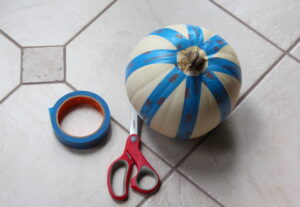 Once the taping is complete, paint the pumpkin on old newspaper and let it dry overnight. At minimum, allow at least a few hours before removing the painters tape.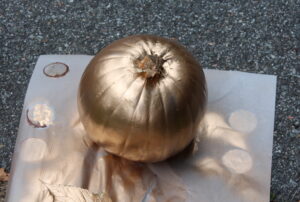 The project took about 20 minutes and then the time to dry.

Sparkle Pumpkins
This pumpkin takes very little time. This pumpkin cost $5-6 depending on the amount of bling you choose to use. Purchase packages of adhesive sparkles that can be found at most craft and discount stores. I chose a mix of gold and diamond rhinestone packets.


Place the sparkles at random around the pumpkin. The design doesn't have to be perfectly symmetrical but works better if the majority of the sparkles are placed on the top half of the pumpkin.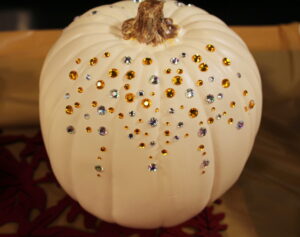 Spider Web Design Pumpkins
A spider web design is another option. This design consists of lines of sparkles placed down the groves of the pumpkin and then lines of sparkles in upward facing half circles spaced between the vertical lines (see photo). Allowing everyone in the family to make their own design showcases creativity and is a fun activity for the family.