Spring is kind of here (fingers crossed) which means gardens are just around the corner.  I love to grow things. Growing food to eat or flowers to admire takes real skill.   I have what I'll call a semi-green thumb – my skill level always has room for improvement.  One thing I've learned is that "starting" seeds or allowing them to sprout into tiny plants before finally planting in the garden is the first step in spring gardening.  Now is the time to get those seedlings started – and today's project is a simple DIY Spring Gardening project.  Check out the video here.
There are all kinds of seed starter kits to purchase and you can end up spending quite a bit at the garden center.  Or you can start your seeds in egg shells from breakfast for free…all you need to purchase is a $1 bag of seeds.  This project is perfect for kids to learn about plants and to watch the life cycle of the vegetables.  It may even get them to eat more veggies.  So, let's go!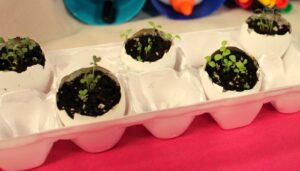 Materials:
Eggs
Seeds
Dirt
Paper Towel
Scissors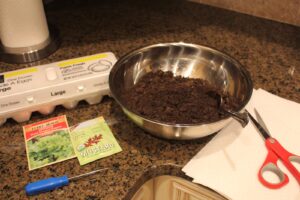 How-To:
Make a hole in the egg shell for planting and use the egg in a recipe.  Also make a small hole in the bottom of the egg for drainage.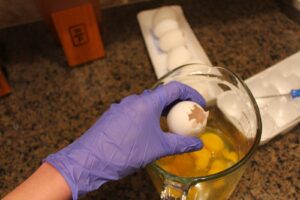 Wash the egg shells out thoroughly and let dry.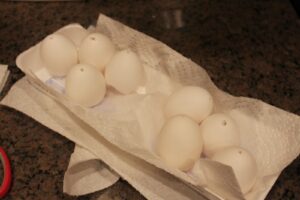 Cut small squares from the paper towel.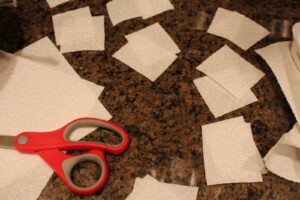 Place a paper towel square in the bottom of the egg shell.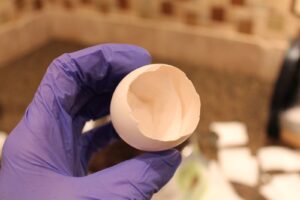 Fill the shell about 1/2 full with dirt.  I used dirt from the yard.  Potting soil may be better.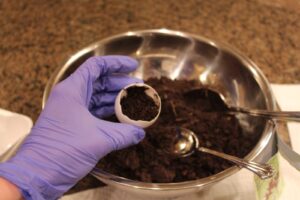 Add the seeds and then more dirt.  Don't fill the egg completely full with dirt.  Allow just a bit of space at the top of the shell.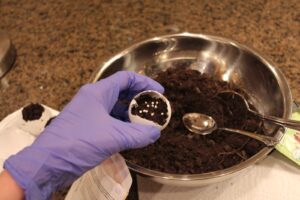 Place the shells back into the egg container for easy transport.  Place the container beside a window or somewhere in your home where sunlight is abundant.  Water everyday just a few drops until the soil is moist.  The seeds will begin to sprout in a couple of days.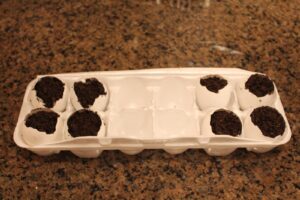 This photo is after five days of growth.  Once you are ready, transfer the eggs to a bigger pot or the garden.  Crack the shell around the egg so that the plant roots may grow and plant the egg directly into the soil.  Happy Gardening!!