You know what's coming.  It's the biggest football event of the year…..Super Bowl week!!  In honor of the day and the fact that I love chocolate, I'm marrying the two with Chocolate Football Pops.  They take very little time and effort and are really affordable.  Each pop costs less than 20 cents.  Let the dipping begin!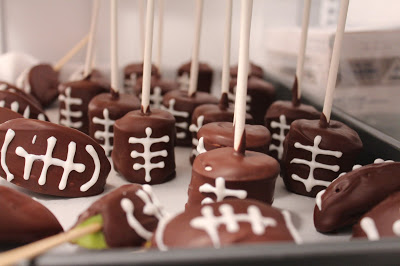 Football Pops
First I forgot to get a good photo.  I have photos from the process and finished photos from the side.  Sorry.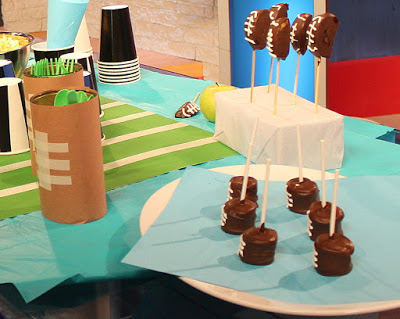 Pops Display
You may do either chocolate marshmallow pops or chocolate apple pops – or both!  I started by prepping my ingredients on a sheet of parchment paper.  You'll need a bag of marshmallows, lollipop sticks or kabob sticks,  white icing in a bag with a tip, a bag of chocolate chips, and/or a bag of apples (if you're doing both).  Below are the marshmallow pops first.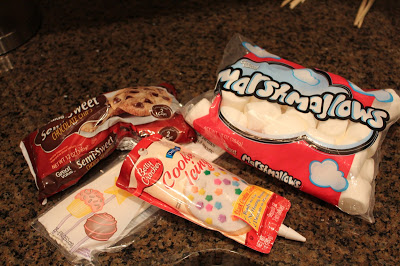 Marshmallow pop ingredients
Prep your ingredients on parchment paper.  I like parchment because it is white and creates a clean working surface and also once the pop is dipped in the chocolate, return it to the parchment for hardening without sticking.  Place a lollipop or kabob stick into each marshmallow and group them for dipping.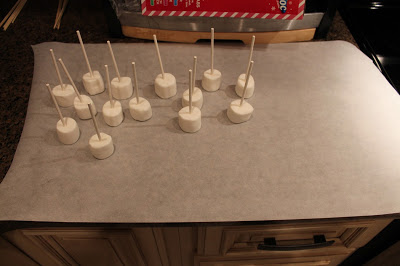 Prep the pops
Melt the chocolate chips in a double boiler or microwave.  One bag will cover one bag of marshmallows in pop form.  Once the chocolate is melted, dip the marshmallow pop into it.  You will want to use a spoon to help cover the marshmallow.  If you don't do it quickly, the marshmallow will start to melt.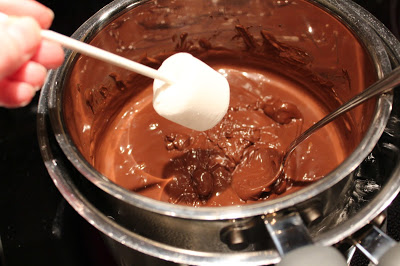 Dip the marshmallow
Place the pop on the parchment paper to harden.  It will take about an hour.  You may place the tray of pops into the refrigerator – this hardens the pops quickly.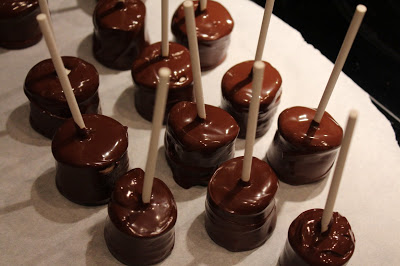 Dipped pops
The apple slice process the the same as the marshmallow pops.  You need 3-4 apples, a bag of chocolate chips, white icing, and kabob sticks.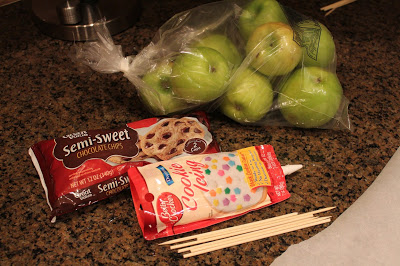 Apple pop ingredients
Slice apples until you make 25 ish pops.  Push a kabob stick into each apple slice.  You could use lollipop sticks, but the kabab stick's point makes life easier.  Again use parchment paper and prep the pops first.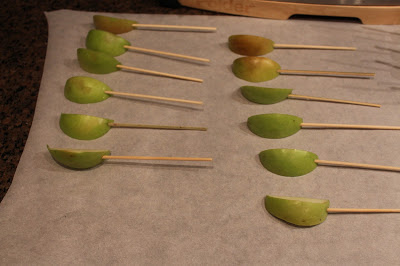 Prep the pops
Melt the chocolate and dip the apple slices in it.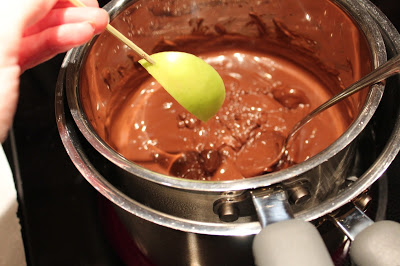 Dip the Apple slices
Place them on the parchment to harden, you can or can't use the refrigerator – it's up to you.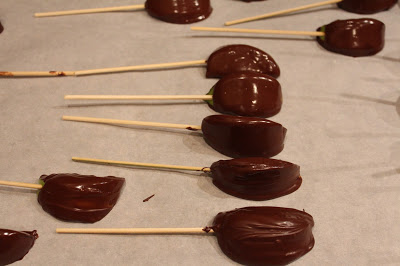 Dipped pops
Once the pops are hardened, draw a white football pattern on them with the white icing.  For the apple pops, use the rounded surface that resembles a football.  Draw one line down the center and three across it for the laces.  Then two at the top and bottom for the stripe.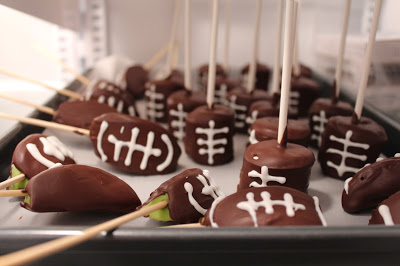 Football Marshmallow Pops