My favorite DIY supply is paper. I have an entire drawer full of different papers, pads, textures, prints – the drawer is hard to open because it's so heavy.  I'm a paper person. For this reason, I am thrilled to announce today's giveaway from Cards & Pockets.  I happened upon Cards & Pockets while browsing online for invitation paper for my wedding.  I purchased my papers and envelopes from the site to make the wedding invitations.  The pricing is super reasonable and the quality is excellent.  Cards & Pockets is giving an Effortless Girl reader a $50 gift certificate for use on the site.  If I was a cheater, I would "win" this DIY Paper giveaway myself because I love Cards and Pockets.  The rules are simple – you must "like" Effortless Girl on Facebook and you're entered to win.  The winner will be selected on Friday from our Facebook list. It's that easy!


Cards & Pockets offers everything paper from DIY Invitation kits to custom printing and everything in between.  I purchased my invitation supplies separately but you can be as creative (or not) as you like on the site.  They literally have every color, texture, and type of paper, envelope, or paper supply you can imagine.  I'm not kidding.  Samples ship for free and I loved this option because I needed several samples before I making my final choice.  Items on the site are very reasonable in price for the high quality of paper they offer.  Invitations, especially wedding invitations, can become exorbitantly expensive but Cards & Pockets helped me keep my costs under budget and I couldn't have been more pleased with my final product.  Winning a $50 gift certificate on this site goes a long way (really).  There are also free printables on the site so that's definitely worth a look. The clearance section has amazing deals.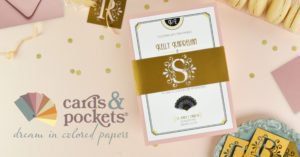 Below are some of my current favorites from the site:
I'm obsessed with the Laser Cut Folded Cards.  There are so many patters I like from designs to leaves to hearts.  They also come in so many colors. The price is around $2 per card so it's very affordable.

This Pocket Panel invitation kit.  It comes in many colors or prints and retails for $ 1.75 per invitation.


This Azalea Damask Paper is on clearance for $ 7.99 fo 100 pieces, yes please!


So don't forget to enter the drawing – all you have to do is LIKE Effortless Girl on Facebook and you're in. We'll draw a winner on Friday so Good Luck!